Its lush, bucolic landscapes might just have been plucked from some fairytale. The island is pleasantly shaded from the summer sun by pines and cypress. Its sun-kissed slopes, dotted with vineyards and ancient olive trees, open into verdant meadows where flocks of sheep graze under the shepherd's watchful eye. Approaching the shoreline, the pebbly, natural beaches of Brač lead the way into the pristine, translucent sea.
There is much to see, experience, and enjoy here, so take your time and explore all this magnificent island has to offer.
History and Culture
The oldest traces of human habitation on Brač date to the paleolithic period, found in the Kopačina cave near Supetar.
Like most of Dalmatia, Brač was under Roman rule between the 3rd century BC and 8th century AD, but it seems the conquerors mostly used the island for its natural resources, especially the famous Brač limestone, used in the construction of Diocletian palace in Split, but also olive groves and vineyards. The wealthy patricians recognized the island's beauty and built luxurious villas on Brač, but no Roman settlements were found from this period.
Indeed, for the longest time, the island had no larger settlements, prompting the famous Croatian poet Vladimir Nazor to name it The island without history. First towns finally arose in the 8th century when Slavs settled the island, followed by the settlements founded by the Venetians during their dominion.
Similarly to the rest of the Croatian coast and islands, Brač saw many rulers through the ages - Roman, Byzantian, Norman, Venetian, French, and Austro-Hungarian. Quite unlike the rest of Croatia, Brač throughout its history retained its autonomous administration, allowing the island to develop continuously, mostly unaffected by the politics and legislation set by the conquerors.
The beauty of Brač, its landscapes and beaches, its quaint towns, and its gorgeous countryside made it a popular destination for tourists since the first half of the 20th century. Its olive oil, wine, and the coveted white limestone which adorns even the White House have found their way to each corner of the world. Even if it is true that Brač was once without history, its future is bright and set in stone.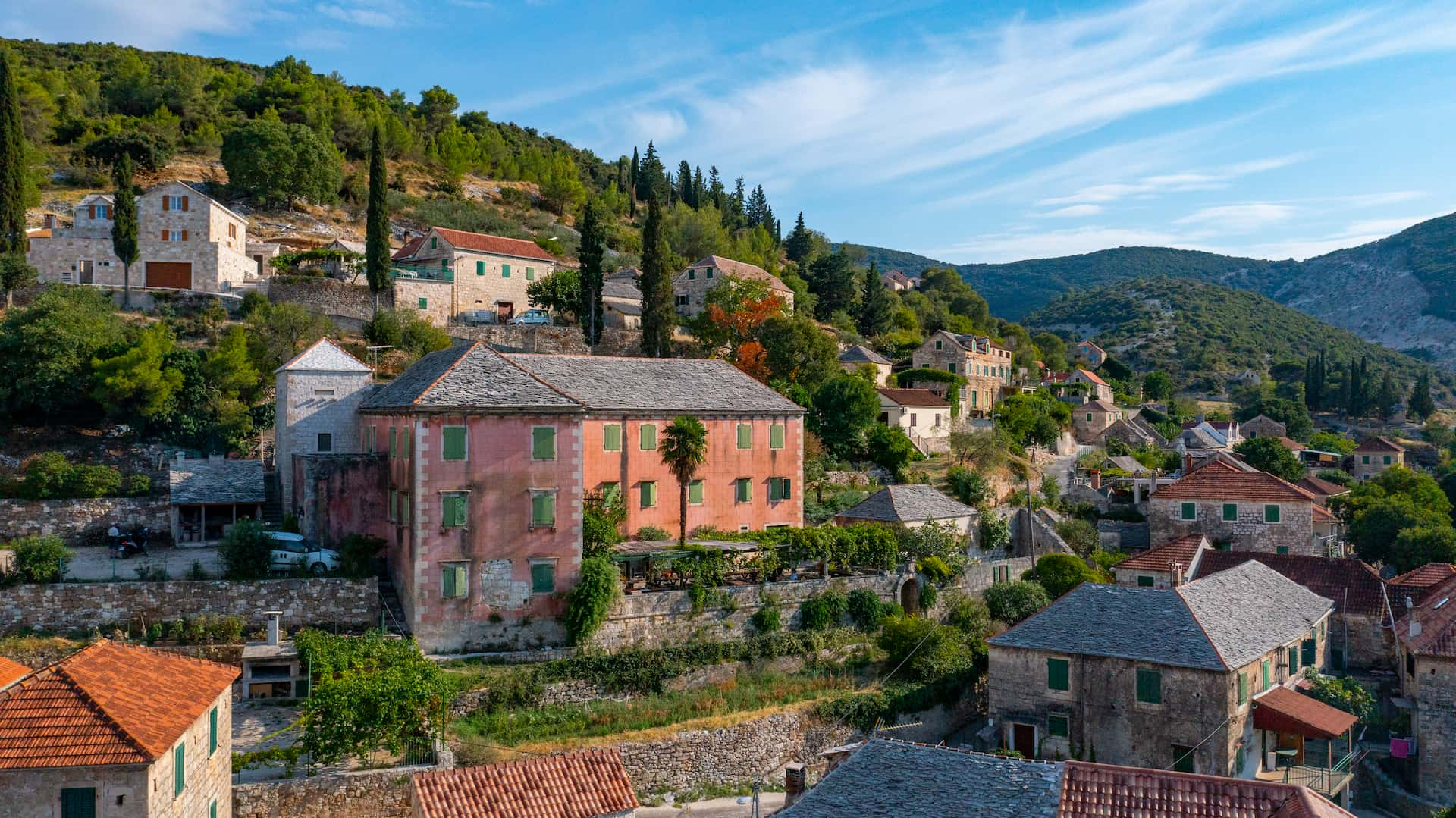 Sport & Recreation
Brač is heaven for anyone seeking an active vacation, be it by enjoying a team sport, discovering nature, or going for some fun water sport or activity.
Perfect weather conditions and plenty of wind make Bol a windsurfers' favorite spot in the Adriatic. Grab a board or rent one at Golden Horn beach and join in on the fun. Or go up a notch on the adrenaline level and enjoy some kitesurfing, the fastest-growing extreme sport in Brač.
Explore the world beneath the surface of the sea. There are hidden caves, reefs, and rocks brimming with life waiting to be discovered all around Brač shoreline.
Take a scenic bicycle tour of the island. Brač is crisscrossed by biking trails that will take you through its beautiful countryside, its vineyards, peaks, and valleys. You might find an older lady or a gentleman offering fine local produce and refreshments along your route.
Don your hiking boots and conquer the Vidova gora mountaintop. At 778 meters, it is the highest peak of all Adriatic islands. Even if the climb does not, the panoramic view of Central Dalmatia will surely leave you breathless.
If you are a tennis player or an enthusiast, why not play a match at the WTA tournament location in Bol, where legends like Goran Ivanisevic and Anna Kournikova competed? If tennis is not your sport of choice, there is a multitude of options for a friendly competition, be it at handball, beach volleyball, mini soccer, basketball, or any of the other sports and activities on offer.
Beaches
Coupled with the incredible nature and delicious food, the beaches of Brač are the reason this island has become a tourist mecca enjoyed by holiday-goers from all over the world. There are far, far too many to mention here, so let us just recommend a few especially interesting ones:
Zlatni rat (Golden Horn Beach), Bol
Featured among the ten most beautiful beaches of the world, the most famous beach in Croatia is much more beautiful in person than postcards could ever reveal. With its smooth, golden pebbles surrounding the lush vegetation, a jutting tip of its "horn" constantly shifted by the currents, and a beautiful azure sea, it is a sight to behold. Whether you arrive to snap a few photos for your Instagram profile, wish to swim the pleasantly warm sea, work on that bronze tan, or seek to catch the wind riding your surfing board, there is much and more to experience here.
Lovrečina, Postira
Take a taxi boat ride or hop in your car to reach Lovrečina cove and enjoy a perfect day at its lovely sandy beach, warmed by the summer sun. If the day gets too hot, why not don your brimmed Indiana Jones hat and go visit the interesting archaeological sites in the vicinity? The most interesting are the remains of a 5th-century St. Lawrence (sv. Lovro) basilica, celebrating the saint that gave Lovrečina its name.
Acapulco, Supetar
A visit to Supetar would not be complete without a day (or a whole vacation) spent on its lively Acapulco beach. Whether you are traveling aalone, or visiting with a family or a loved one, this is the summer spot second to none. Enjoy the chill summer beats, frosty cocktails, and snacks at this pebbly paradise.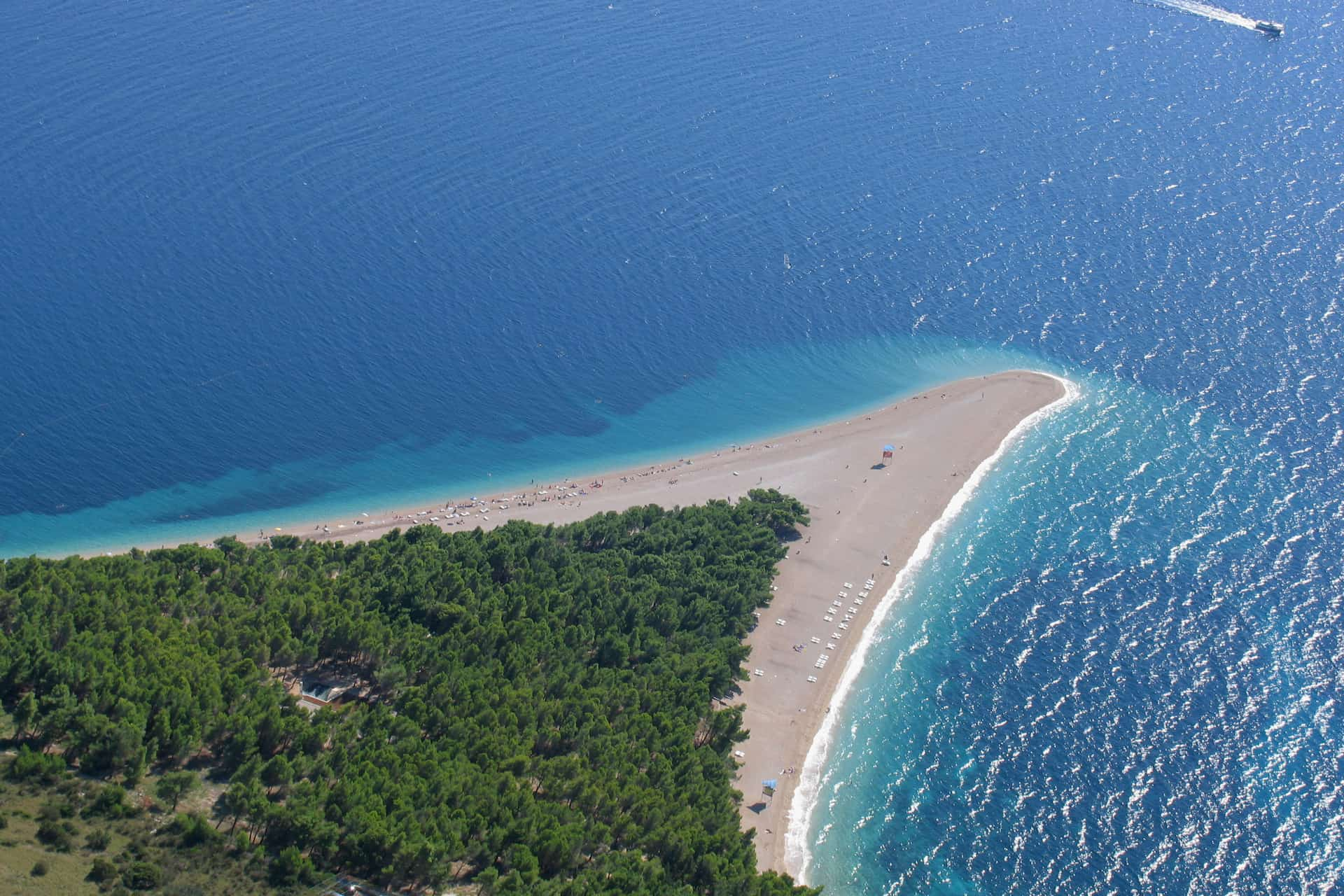 Gourmet
Wine
The winemaking tradition in Brač dates to ancient times. It is no wonder, as the island is blessed by a perfect climate with plenty of sunshine, steep slopes ideal for grape growing, and a wealth of experience gathered through the ages by its winemakers. While visiting Brač, join a guided tour and enjoy gorgeous vistas, taste some of the best Croatian wine, and discover the process of its creation.
Olive oil
Oblica olive is to Brač and Croatia what Nocellara is to Italy and Kalamata to Greece. During harvest time, ancient groves on Brač are brimming with this exceptional indigenous varietal, resembling a tiny green apple. After harvesting by hand, skilled hands will transform it into a delicious extra virgin oil. As a product with a protected designation of origin, a winner of many awards and accolades it is a true Mediterranean treat.
Visit the museum dedicated to Brač olive oil making to see the traditional oil-making tools, find out how the process evolved through history, and taste some of the world's best olive oils.
Cheese
Brač is among the few Croatian islands renowned for their cheese-making. Salty, aromatic wild herbs that Brač sheep graze on give this hard cheese a gorgeous flavor and make it a favorite snack, especially when paired with a glass of Brač wine, some fine prosciutto, and olives.
Brački Vitalac
This traditional shepherd's food is a treat that should not be missed by any true gastro nomad seeking an authentic taste of Brač. Lamb innards wrapped in lamb's sheath, slowly roasted on a spit over hot coals until golden and crispy, served piping hot, accompanied by spring onions, are a delicious Brač answer to Scottish haggis.
Hrapoćuša cake
This tasty rustic treat might resemble a surface of a rugged stone but its taste is a soft, sweet, and perfectly balanced rhapsody of flavors perfected during the 500 years of its tradition. Inspired and named after a type of reddish stone seen in the houses and drywalls of the Dol village, Hrapoćuša is as much a symbol of Brač as Brač limestone, Golden Horn Beach, or Oblica olive oil.
Do not miss
Visit the museum in the castle
Ancient Roman castle Located in the Brač oldest settlement - Škrip, a short way inland from Postira and the Grand Hotel View, houses The island of Brač museum. Discover its rich ethnographic collection and lapidarium, but do not miss the remnants of the castle's western outer yard wall. Constructed by the Illyrians with megalithic stone blocks that prompted the locals to dub it the Cyclopean wall, it is a glimpse into the mysterious past of the island.
Say "I do!" at Dol
Tiny St. Peter chapel in a cypress grove is a hidden gem of Brač. The enchanting ambiance of the chapel yard is a perfect location for a romantic wedding and creating memories that will last a lifetime. Newlywed couples can celebrate their big day by tolling the oldest church bell on Brač, proclaiming their love to one another and the world.
Visit the cave of a dragon above Murvica
Equally mystical, inspiring, and beautiful, the cave above the village of Murvica known as the Dragon cave is a must-visit if you crave a memorable experience. It was once a refuge and a temple of Glagolitic priests, whose strange sculptures carved in the walls tell a story of Christianism and paganism, tradition and folklore of the region in the late medieval period.
Delve into the military tunnel
The 70-meter-long tunnel was built by the Yugoslavian army to shelter submarines and army vessels. Even as its purpose has now changed and it has become a shelter for fishing boats during stormy weather, you can easily sense the atmosphere and the history as soon as you pass the imposing concrete entrance and sail into the darkness within.
Take a walk to the Blaca hermitage
The hermitage was founded in 1551 and remained a sanctuary of Glagolitic monks until 1963. What started as a walled cave grew through the ages to include kitchens, cellars, multi-storied buildings, and a church. The complex today houses a rich inventory, astronomical instruments, a printing press, an archive, and a library. Reachable only by foot, this cultural and historical phenomenon is well worth a visit.
Discover the Masonry school in Pučišća
Brač is best known for its white limestone and souvenirs made with this beautiful natural material can be purchased all around the island. If you wish to discover how skilled artisans turn raw stone into works of art, the best place to visit is the stonemasonry school in Pučišća. This is a place where since the very beginning of the 20th century the secret to this craft gets passed on through the generations. Do not fret if Pučišća were not on your travel itinerary, as Grand Hotel View collaborates with the school and some fine exhibits can be seen in the hotel during your stay.